Let's start off with a "Winning!" piece of news – Winning.com is up and stumbling! I'll let you make up your own mind as to the value of the site. Those hungry for Tiger Blood should find something to satisfy their Sheen cravings.
Speaking of our boy Charlie, his Violent Torpedo of Truth, Defeat is Not an Option Tour 2011 will be crashing into Toronto, Canada, specifically, Massey Hall on April 14. This one is in my neck of the woods, but I'm going to resist temptation. I think.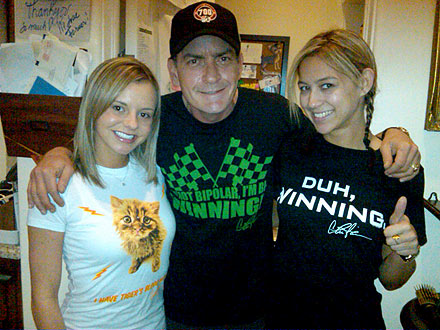 And here's a little something I just stumbled upon.
Charlie Sheen – Official Meet & Greet Package
Charlie Sheen – Official Meet & Greet Package includes:
. One premium, reserved ticket located in the first 10 rows of the stage
. Exclusive Meet & Greet with Charlie Sheen
. Personal photograph with Charlie Sheen
. Autographed 8X10 photo
. Collectible Tour Poster (limited edition, numbered)
. Official Meet and Greet Laminate
Disclaimer: Please note that all package elements will be delivered to you night of show. You will receive an email from tickets@fanfire.com the day prior to your show with Meet & Greet details (meeting time and place). All packages are will-call only, non-transferable; no name changes will be permitted under any circumstances. The VIP laminate included in the package is for commemorative purposes only and does not gain access into the venue, VIP or any backstage areas. Please note, this offer is not valid if you purchase this ticket through TicketExchange.
This was listed on the official Ticketmaster site, but it sure sounds fishy to me, even for Charlie!
But speaking of actors hitting the concert stage for no good reason, here's the official press release for An Evening With Al Pacino!
 Niagara Falls, ON – Award-winning actor Al Pacino will be at Fallsview Casino  for two nights in June to give audiences a once-in-a-lifetime experience. An Evening With Al Pacino will include Al Pacino in a candid interview setting followed by an interactive Q & A with audience members; a unique treat for any Pacino fan.   
Would you like to hear the best part? Tickets start at $90! Granted, if you live in Canada, they'll accept 5 beaver pelts or 25 ounces of maple syrup, but if not you'll be paying through the nose.
 Do you suppose this "once-in-a-lifetime" opportunity as it's being hyped, has anything to do with the huge debt Pacino owes the IRS?
   Related Articles